Save Fuel With PRI
ATTENTION TRUCKERS, MOTORISTS, RVrs!
SAVE 5%, 10%, 15% IN FUEL COSTS!

It's true! With PRI-D for diesel or PRI-G for gasoline, you will achieve the same fuel savings experienced by our industrial clients! Documented, long-term fleet studies of PRI application on hundreds of vehicles confirm an average fuel economy improvement of 8.8 percent, with individual savings ranging from 5-to-15 percent and more!
How? Simply, PRI keeps engines and fuel systems cleaner - operating closer to the original design specification. Fuel injectors provide optimum spray patterns. Fuel delivery systems remain deposit-free. Your engine runs better than ever.
SWITCH TO LESS COSTLY, LOWER OCTANE GAS WITH PRI!

And if you have been using higher octane grades of gasoline - like 92 octane or 89 octane - our only question is.....why?
Instead, use 87 octane gas - but treated with PRI-G. For a lot less money, and great savings, you will get the performance of a higher octane fuel, without the cost.
PRI not only cleans your fuel system, keeping your fuel injectors working at maximum efficiency, it also prevents the carbon deposits that can rob your car of efficiency and power - requiring expensive, higher octane grades.
PRI - KEEP THAT OLD VEHICLE RUNNING GREAT!
Using PRI with every tank of gas or diesel fuel ensures that your older car and truck will continue to run great year after year.
229,000 Miles And Still Running Strong!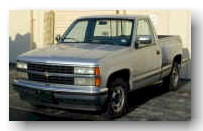 At right is one of the PRI work trucks - a 1990 Chevy 1/2 ton Silverado. Inaugurated into PRI service in February 1991, this truck now has 229,000 miles and is still running strong thanks to continuous PRI-G treatment since day one! She burns 87 octane gas, gets 17 mpg in the city, and 19-21 on the highway - better than the original EPA fuel economy ratings for her 350 cid engine. Our plans for her? Having just broken her in, we figure we've got at least another 271,000 miles plus to go before her first engine overhaul!